I have a friend who's taking her first tentative steps into the world of small business. She has an excellent product and the talent and skills to make it shine. I also know she has a lot of drive and business sense. She's very smart, too. She's figured out how to create a small website for herself, what kind of shopping cart to use to sell her product and who her target market is.
Sounds like she's on the right track so far, doesn't it? She is, no doubt about it. But my friend suffers from something we all do or did when we went into business for ourselves; she doesn't know how to be vulnerable.
Huh?
Being in business for yourself requires a certain amount of vulnerability. Gone are the days when everyone had an alias on the internet and never put up any pictures or real information about themselves. In order for your business to thrive, people want to see who you are. They need to know you're a living, breathing person before they plunk down their hard-earned cash. You need credibility and the only way to get that is to put yourself out there.
But doing that isn't easy for everyone. Many people, like my friend and myself, are very private people. One of the most common responses I get from clients after I ask them if they want a blog on their site is "What am I going to blog about?" They're not thinking about writing articles dealing with what they do, their minds take a jump and go right to "Oh my God, I have to write about MYSELF! What am I going to tell people? I don't want to tell people about ME! No one will listen, I'm boring! I've got nothing to say!"
I'll admit, I've said those things myself when I first had to blog. I didn't want to put myself out there. I liked being behind the scenes, happily working in the wings on the graphics and whatever else came across my desk.
All About Connecting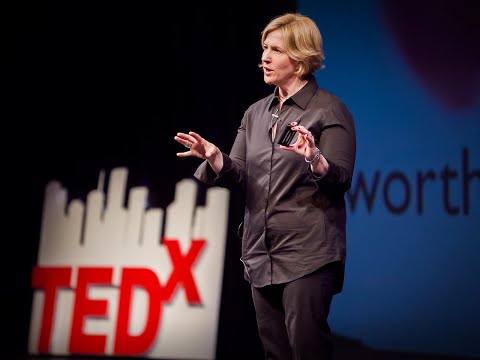 I can tell you, being the mysterious quiet one in the background doesn't work as well in business or online as it does in real life. Without a voice, no one will see you sitting there behind your keyboard. It's not like being at a party and seeing someone over by the buffet who looks interesting enough to talk to.
Brene Brown said in her video "Connection is why we're here." She's right. When you think about it, connection is exactly why we're here. Humans aren't meant to be lone wolves. Not even wolves are meant to be lone wolves. Being alone out in the wilderness gets you dead. You need the pack, you need the tribe. That's how it was for our ancestors. Humans are hardwired for this kind of connection.
So what keeps us from connecting? Brene says shame; the shame and fear that someone will call you out for a fraud and you won't be good enough anymore. The mindset of being unworthy makes us quit before we even get started.
Learn To Be Vulnerable
In the video, Brene explains the roots of the word Courage. Courage comes from the Latin word meaning "heart". She said courage is the ability to "tell the story of who you are with your whole heart". Whether you're an entrepreneur, writer or artist, you're a storyteller. You're sharing your experiences with your audience because what you have to sell fills a need for them. This is your connection, this is what makes your audience resonate with you and no one else. It's the difference between them buying your product and not the same one from your competitor.
But how do you open yourself up? How do you begin to connect?
Baby steps.
Vulnerability isn't about sharing your innermost secrets with the world. It's about sharing what's relevant. It's taking a piece of your life story and telling it in such a way that people look at it and say "I know how you feel! I feel that way too."
Start with what you feel comfortable with. Talk about your business, how you got started. What was it that prompted you to begin with? You saw a need because of an event or series of events that happened to you. You already know there are other people out there who have gone through the same thing, right? Share it. Start small and make it general if you have to. Over time, you'll grow more comfortable as you begin to see your audience start to accept you and what you have to say.
And that excuse of "it's all been said before"? Sure, there's nothing new under the sun, but what makes your message different is YOU are the one saying it. Your message is unique to you, and there are people who will connect because they like the way you say it.
Set your boundaries from the start, know how much you'll share and where you draw the line. You can still connect without telling the world all the inner workings of your private life. No one needs to know you like spending your Sundays on the couch in your pajamas eating bon-bons and watching B movies all day…unless it's relevant to what you're selling and there's a point to it.
My friend did take her first steps into connecting. She's since started writing articles for her website and spreading the word of her product in her real life community. She's learned the value of baby steps. One day she'll look back and wonder what she was so afraid of. I know that feeling, I do it myself. Bigger challenges have since taken the place of these smaller ones and that's the way it will always be. Bigger challenges always lurk around the next corner.
How about you? How much of yourself do you share with your audience? What boundaries have you set for yourself?