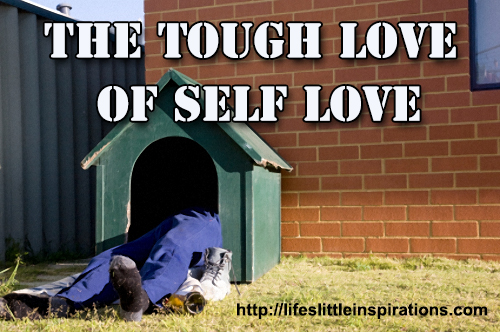 I decided to have an affair.
After all, a married woman with four kids, two grandkids, three dogs shedding enough dog hair on a daily basis to form a new puppy… I figured I was way over due for someone to love me exactly the way I needed to be loved. Cherished, doted on, accepted unconditionally, pampered, listened to when I whined, perhaps with a loving hug or a "There, there, darling, it's okay, you are beautiful and awesome and wonderful just the way you are…"
No solutions, no fixing. Just unconditional comforting, sweet love.
There was only one problem. Being the monogamous, faithful wife that I am, a scandalous affair was likely to cause problems, so I could find only one solution.
I had to have an affair with myself.
After all, who better to whisper sweet nothings in my ear and tell me how wonderful I am? Who would know better than me what I needed way down deep in the shadowy recesses of my hidden heart?
So I went on an inner journey. A date with myself to discover what I wanted, what I needed and how to treat myself to some delicious pampering.
This was the moment when I discovered something dreadful. Something so frightening,  it shook me to my core and rattled my bones. 
When I peered down deep into my soul and into the dark shadows of my heart looking for what I needed, all I found were cobwebs.
And dust. Some dog hair.  A few worn out Martha Stewart magazines where I had circled some favorite furniture with a red-penned note that said, "This is ME! This is REALLY ME!" Except the date on the magazine was over a decade old and whoever that version of me was back then, she had lousy taste in furniture.
I sat on a stump, perplexed. I had taken myself out for a lovely affair, opened the doorway wide and asked, "What do you want, my darling, the world is yours, let me love you, pamper you, lavish you with the desires of your heart…" And the only response my tattered and worn out spirit could summon up was…
"Great, how about a nap? And could you shut up with all that romance language? Some peace and quiet would be awesome, thankyouverymuch."
Myself was tired. She didn't want pampering, she wanted sleep. She didn't want to go on an Artist's date with me, she wanted silence. She didn't want to be lavished with silk and the finest cottons, candles and jewels, she wanted her ratty pajamas, the lights turned out and for everyone to leave her alone.
I was appalled at Myself. And I told her so. "How ungrateful can you be?" I said to her. "Here I am trying to do something nice for you and all you want to do is push me away. You won't even talk to me, won't even give me the time of day!"
"What do you expect?" she snarled back, "You've been ignoring me for ages, decades really, and now all of the sudden when you feel like dressing up and going out on a date, having an affair, you expect me to just jump up and be excited? What do you think I am? Some kind of performing puppet? You can't just pull my strings and expect me to love you back! Not after being ignored forever!!"
Ouch. Her words hurt. She treated me like I was a stranger. Like I had no right barging in and wanting my mind, spirit and body back after ignoring it forever. But hey, it's mine, right? Shouldn't I be able to just take it back down off the shelf, dress it up and take it out if I want to?
Shouldn't I?
Apparently not. She marched off. Turned her back on me. Told me she had a headache and slammed the door.
And I was alone. With no clue how to love Myself, communicate with Myself, listen to Myself, care for Myself or even BE with Myself.
It was scary. I felt hollow. Empty. I had never realized how truly alone I was without her to talk to. I had taken her for granted. Figured she would always be there. I thought she was the one person who would stick up for me, through thick or thin.
But as I sat there, I realized how wrong I had been. I hadn't been there for HER. I was a lousy friend. A lousy lover. I never stuck up for her. I stabbed her in the back all the time. Put everyone's needs ahead of hers. Ignored her when she asked for anything. Told her I was too busy, I'd get to her later, she'd get her turn, she could make due with what she had. I stopped listening. I didn't even know what she liked, what she thought was important, what her deepest needs were, or her secret dreams. What her purpose was, what made her happy.
I went and made a cup of tea. I brought it to the door, gave a gentle knock. I didn't demand, didn't beg, did try to make her feel guilty.
I apologized. And I offered to listen if she wanted to talk.
I pulled up a chair.
And I waited for her to get some rest. And then, once the tiredness had been appeased, I began to listen.