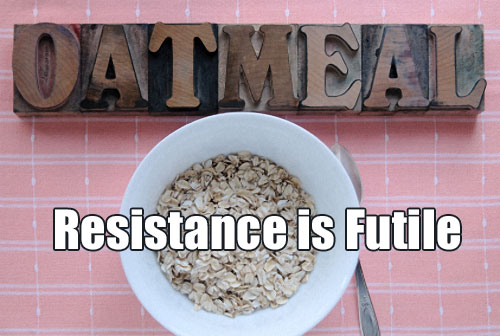 "You ever eat flax seed before?" I asked Wendi this morning on IM and stared down at the contents of my cereal bowl. "This new oatmeal I bought tastes like shite. It's supposed to be strawberries and cream."
I could hear the mental blink on the other end, then, "I was wondering what flax seed, sex and dressing up had to do with anything, but okay. Is it the kind in the box?"
Don't worry, our previous discussion wasn't about our personal lives, just one of those things we find while chasing the rabbit down the hole on our adventures across the web. I laughed.  "Yeah. Just add hot water and stir."
"Was it Better Oats?"
"Yeah."
"Did you cook it?"
I paused. Cook it? What's there to cook? Nuke the water, add it to the bowl. Stir. It's cooked.
"You didn't cook it," Wendi says. "Cook 90 seconds, stirring and let it sit. That breaks down the flax seed. Otherwise it's like eating a hard seed shell."
I stared at my bowl again. "Cook it, huh?" I vaguely recalled seeing something about that on the instructions. But who reads those? "Okay, I'll go toss it in the micro for 90 seconds."
90 seconds later
Well, whaddya know? The medicinal aftertaste was gone, angels sang, and all was right with the world again.
After I came back and told Wendi, she, in her infinite Coachmaster Wisdom says, "If in doubt, read life's directions. Figuring it out alone is hard work and tastes like shite."
And there was my moment of Zen for the morning. Life has been like that every week since I started coaching with Wendi and going through the process she takes our clients on. Seems that most of my lessons speak to me through food. Sort of like Po in Kung Fu Panda. The spirit listens to what you relate to best.
A couple weeks ago we had the chocolate chips speaking, and this week, it's oatmeal. And let's not forget The Zen of Bagels.
Reality shows give me revelations too. Most recently it was Chef Irvine of Restaurant Impossible and John Taffer of Bar Rescue.
I admire both these guys and what they do. Each week they help some poor business person dig out from under their restaurant/bar problems and get them back on track. Their business sense applies to all businesses out there, and life in general. The concept is people ask for help with their seemingly hopeless situations and at the root, many of the problems are always the same.
"My employees won't listen to me", "The customers are annoying and out of control", "I cook great food/serve great drinks, but business is down, I'm losing money right and left!"
The fact is, your employees aren't listening because you've given them no training or direction. Your customers are getting crappy service because you and your employees don't care anymore, and your food sucks.
But the biz owners don't want to hear this. They want the pros to tell them, "Oh, you're so right! No one appreciates you, no one can do it better than you, you're fantastic and everyone else is wrong!"
In most cases, it's just the opposite. The pros tell them the truth and it's not what the biz owner wants to hear, BUT they know in their heart of hearts, the pro is right.
Then comes the resistance.
The biz owner starts fighting back, arguing, saying the pro doesn't know what he's talking about. That's about the time I look at the TV and say to the cat sitting on my shoulder, "Yeah, and how's that been working for you so far, dumbass? You asked for their help and now you're telling them to go away?"
I had a hard time comprehending this mindset. Just listen to the pro, they know what they're talking about! You asked for their help, you got it, and now you don't want it? What's wrong with you?
Ahhh…throwing stones is so easy.
Around this time, my little Truth Speaker in my brain tapped me on the unoccupied shoulder and said, "Um…does any of this sound familiar?"
It was another chocolate moment.
Just the week before in my session with Wendi I was whining about having to check in every week, annoyed and irritated that I had to keep a food diary, that I had to write down what I was feeling and thinking day after day, week after week. Wendi kept asking over and over, "Who are you doing this for? Me or you?"
My belligerent Rebel voice would say (with a roll of her eyes), "For me, of course."
But it was lip-service, saying the words without fully understanding what it meant to do something for me. I was doing it because I had to. These were the rules. You check in so Coach knows what you're doing.
But it's more than that. Wendi, despite her infinite wisdom and intense empathy, is not a mind reader. No one is. Unless I'm doing the work for me how could she possibly know what's going on? She's not doing this for her own jollies. I had asked for her help and then telling her to get the hell out of my restaurant. I knew what I was doing. Everyone else was wrong.
Yeah, and how has that worked for you so far?
Not very well. Or else I wouldn't need the coaching to begin with.
The moment I came to that realization, the cloud of resentment lifted. Angels sang. Trumpets blared. Beams of sunlight carried on the backs of unicorns showered down from the sky.
We all go through some resistance when we're trying to change. It's hard and scary. In most cases, we've held on to these habits and beliefs for so long they've become our false truth. We don't want to see what's right in front of us. It feels wrong, uncomfortable, alien.
But that's okay. The best thing you can do is realize it happens to everyone. It's not wrong, it's not right, it just is. The best thing you can do for yourself is realize that, acknowledge it, and move on. Be gentle and forgive yourself. Let it go. The only person who's going to berate you for past actions is yourself. So you made some mistakes? Okay, no biggie. Don't dwell on it, learn from it.
The second you start feeling a huge wall pushing back is the moment you KNOW you're on to something big. Step back and get a better view of that wall. Climb on top of it if you have to. You'll be surprised to find the mortar is crumbling and the bricks aren't as sturdy as you thought they were. Grab a sledgehammer and knock it down. Sure, there's another wall off in the distance, but you know how to deal with it now.
Give that bowl of oatmeal another 90 seconds, and next time, read the directions first.