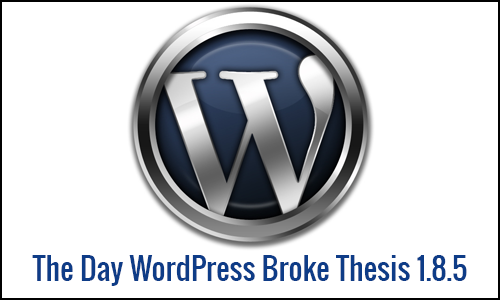 WordPress has come out with a new version. Yay! View all the fun, new changes in "Benny" WordPress 4.0 here.
You'll be happy to know we've upgraded all of our sites to it and haven't run into any issues, so those of you worried about hitting that Upgrade Now button can go right ahead without fear.
That is unless you're running the Thesis 1.8.5 theme.
Yup, it finally happened. WordPress broke Thesis. After doing some poking around it seems at present the only option people have is to either upgrade their Thesis themes to 2.0, find a new theme, or convert their sites to another framework like Genesis.
I have to admit,the news doesn't sadden me in the least. Thesis has been the bane of many a designer's existence since it came out. I know I never liked it. Others swear by it. Here at Blue Sun Studio we specialize in the Genesis Framework and all our clients are very happy with it. For a list of benefits, click here to read why we're so committed to it.
The timing couldn't be more perfect for us. Wendi and I have just created a brand new package for site conversions such as this.
Introducing "Let It Grow!"
Do you have a website that needs a bit of a facelift? Are you just getting started blogging or establishing your web presence?
Sometimes you don't need or want to spend a large amount of money on a website. You may not see yourself managing an e-commerce site or big list right now. You want a site that gives your visitors a place to land. Or maybe you have an outdated site and all the branding work has been done, but the one you have right now isn't working for you anymore.
Or maybe your Thesis is broken and you want a framework you can count on.
Let It Grow!, our newest service package, is designed to get you up and running in a short time in as streamlined a manner as possible. Here's what you get:
In-depth consultation on what you really need for your site and determine your site's true focus

One site converted to the Genesis Framework

New Genesis Child Theme, customized with your branding and colors

Theme installation on your server

One hour WordPress training session after install, using JoinMe so you can view Deb's screen as she takes you through your new site step by step

Gdoc project document where you have access to feedback 24/7 and keep track of the project as it unfolds
This basic website package is designed with you and your company's growth in mind. Start simple, don't worry about the bells and whistles, or keeping up with what everyone says you "should" be doing, and just focus on what matters. Then Let It Grow! Your site will have plenty of room to thrive and expand as time goes on—and we'll be right there to help you do it!
Let it Grow! Is priced with the budget conscious business owner in mind. For $850 you get all of the above, plus the kind of quality service and support all our clients expect and enjoy from Blue Sun Studio.
Sound like a service you could use? Get in touch with us today and be on your way in no time!