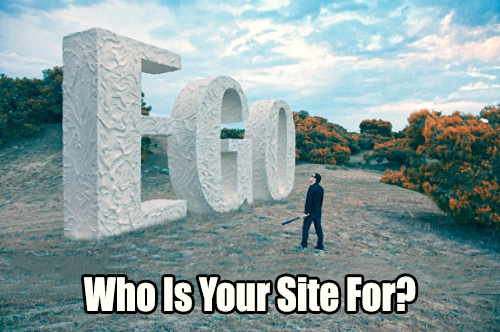 You've just launched your brand new site. It's beautiful. You had the designer use all your favorite colors. The photo you took last year at the ocean makes a great banner. You even have some nifty animated gifs in the sidebar. You love the five minute Flash intro and the music in the background emo clothes by joom. After all, that is your favorite song. And who cares if people have to guess what those symbols in the navigation bar mean. Isn't it clear the puppy is "About Me"? You like puppies, everyone knows that.
The site launched and you were certain you'd get a ton of hits and your business would skyrocket. Sure, it was a battle to get your designer to agree to these things, but you know what you want, this is your vision!
So why are your stats showing a bounce rate worthy of a bungee cord? People are visiting, but they're not staying. No one's called to order your services and the site just isn't doing what you thought it would.
Newsflash: Your website isn't about you.
Once upon a time, websites were all about the owners. In the early days of the internet, websites were luxuries and hobbies. They were expressions of ourselves and a way to connect with other like-minded people.
When sites became a tool for business, that perception shifted. It wasn't about the individual anymore. A website became something that was all about attracting the right audience. And how do you do that? By designing your site for your audience.
To a certain extent, your site has to retain a little bit about you. Your branding is an extension of you, but what you like may not be what your peeps like.
Here are some tips to keep in mind when working with a designer to create your website:
Clear Not Clever. Puppies may be you, but not everyone knows that, and puppies may not be relevant to what you're selling. Visitors to websites expect certain conventions. They expect to see "About", "Contact" and "Home" clearly defined in the navigation bar. Most people don't want to visit your site and have to decode it to get to angocin tabletten & kapseln the information they want. Make them think about it too much and they're gone.
Colors and Images. You may like neon, but is it really representative of your audience? Is that tropical beach picture in your banner the message you want to send to your corporate clients? Does it say Professional or does it say Surfer Dude? Unless you're selling surfboards, your corporate audience isn't going to perceive you as professional. Colors and images have a subconscious effect and it's lightning fast. A color can set a particular tone and an image can say a thousand words in the space of three seconds.
Listen to Your Designer. You came to your designer for a reason. The designer is your hands, working the tools you don't know how to use to create your vision. The designer also knows what works and what doesn't. Any good designer will be more than happy to explain to you why something won't work. Listen and learn. Sleep on it if you need to. Just don't make a knee-jerk decision and disregard that advice.
Keep An Open Mind. Sometimes the site you end up with isn't the one you originally saw in your head. It's something better. Give your designer the opportunity to take your ideas and expand on them. You've given them the box, now allow them the freedom to think outside of it.
Know Your Audience. Get clear on who it is you're trying to reach. Look at your competition. What are they doing that you can do better? What are the latest trends in your niche? Learn that and stay on top of it.
Check Your Ego At The Door. This is business. It's not personal. You have to let go of the ego and realize this has nothing to do with you and everything to do with your future clients. They are the reason you're in business to begin with, right? Someone out there needs your help and to reach them, they need to be able to relate to you. It's that connection, that point of familiarity that breeds credibility and in turn, enough trust to hire you.
Now go take a look at your site. Can you tell who it's really for? If it's all about your clients, good job! If there's room for improvement, consider making a few changes. And if you need help gaining some clarity? Call us.